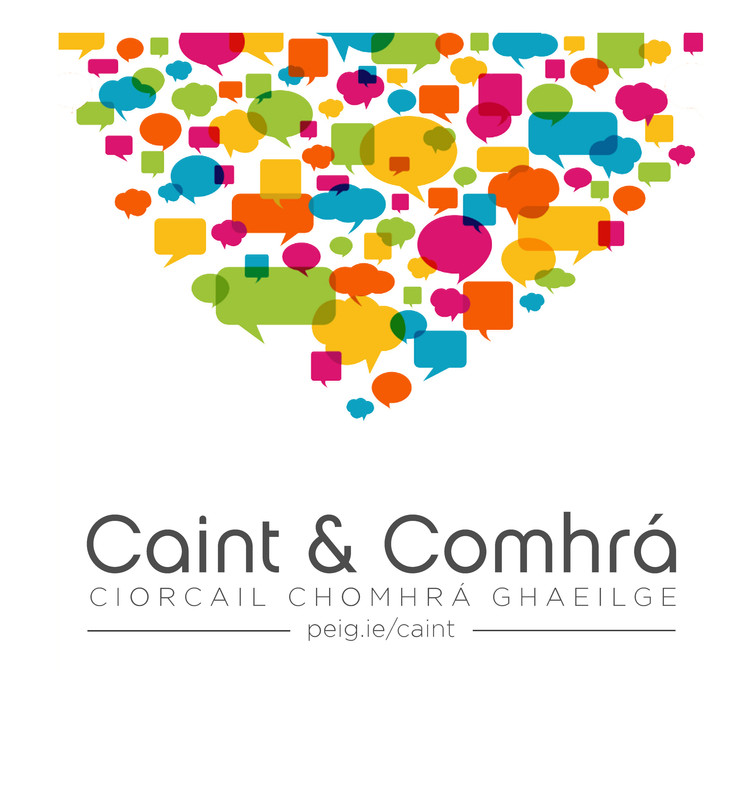 What is Caint & Comhrá?
There are many Irish language conversation groups across the country. You will find groups to suit speakers of every level.
The scheme Is Leor Beirt (It only takes two) was set up to support and encourage new and current Irish language conversation groups around the world.

These groups give you the chance for you to use your Irish; whether you're fluent or only learning.

You dont need to have lots of people to get your cúpla focal going - it only takes two!
How to Start a Conversation Group
It's very easy to set up a new Conversation Group; all you need is a group of people to meet and chat together in Irish on a regular basis.
Once you have settled on a time and place forward the details to isleorbeirt@cnag.ie or register your group on the Peig site.
Taking part in the scheme is completely free and usually doesn't take up much free time.  Groups often base meetings around coffee breaks and lunch hours. 
Is Leor Beirt gives everyone a chance to use their cúpla focal and ensures Irish will be heard in all across the country.
The campaign aims to help you overcome your fear of speaking the language by providing a friendly and casual setting to use your cúpla focal.
Find a Conversation Group Near You
You can find a Ciorcal Comhrá in your area through Peig's interactive events map. 
Abroad
Germany

Is Leor Beirt – Berlin

Café Orange,

Oranienburger Str. 32, Berlin

Every Second Thursday - 20:00

cnag_bheirlin@yahoo.ie

Brussels

Is Leor Beirt – Brussels

Riverfront Hotel

billykearns@gmail.com

Is Leor Beirt – Belgium

omordha1@eircom.net

Los Angeles

Is Leor Beirt

Antigua Bread, 57803 N Figueroa St. Los Angeles

Every second Sunday 

- 15:00-17:00

freepacifica@gmail.com

Conversation Circle

On the Patio beside  AF International in Westlake Village, California

celticartsla@gmail.com

Chicago

Jack Desmonds, 10339 Ridgeland Ave, Chicago Ridge, Il

The first Saturday of the month 

- 11:30

luannebaldwin@yahoo.com

Edinburgh

Is Leor Beirt

Irish Consulate, 16 Randolph Crescent, Edinburgh EH3 7TT, Albain

Every second Wednesday in the month 

- 19:00-20:00

cnag_glaschu@hotmail.com

Helsinki

Is Leor Beirt

O'Malleys, Helsinki

Every second Tuesday - 20:00-22:00

gaeilgefi@gmail.com

Liverpool

Is Leor Beirt

Irish Centre,

St Michaels

Thursday - 21:00-22:00

tonybirtill@hotmail.com

Leuven

Is Leor Beirt

Stapleton's,

Standonckstraat 4, Leuven, An Bheilg

*Make contact before attending this conversation circle

Every Sunday - 19:00

gaeltacht_be@yаhoo.com

Manchester

Is Leor Beirt

The Jolly Angler, Ducie Street, Manchester

Last Thursday of the month - 21:00

webmaster@milg.org.uk 

Missoula

Is Leor Beirt

Le Peak Café,

The Corner Store, Emma Lommasson Centre, Montana University, 32 Campus Dr., Missoula, MT 59812

Every Wednesday - 13:00-14:00

cumann.gaeilge.montana@gmail.com

New York

Is Leor Beirt

Ceol Pub,

191 Smith Street, Brooklyn, New York

Once a month - 20:00

timothymckeon@yahoo.com

Oxford

Is Leor Beirt

mike_beag@yahoo.co.uk

Paris

Is Leor Beirt

The Quiet Man,

5 rue des Haudriettes, 75003 Paris (Metro, vélib : Rambuteau, Hôtel de Ville)

Every last Tuesday of the month - 19:30-23:30

comhraparas@hotmail.fr 

Vancouver

Ciorcal Comhrá

Calhouns (3035 W. Broadway, Vancouver) or

Caffe Calabria (1745 Commercial)

Contact in order to receive schedule

oser@phas.ubc.ca
Find a Circle...
Antrim

Is Leor Beirt – Belfast

Áras Mhic Reachtain, 283 Antrim Road, Belfast, BT15 2GZ

Wednesday - 12:00

desidonnelly@hotmail.com

 

Ciorcal Comhrá – An Droichead

The Dirty Onion, Hill Street, Belfast, BT1

Every Monday 20:00-22:00

fionnuala@androichead.com

 

Maidin Chaife – An Droichead

An Droichead, Cooke Street, Belfast, BT7

Every Thursday 10:00-12:00

fionnuala@androichead.com

Armagh

Is Leor Beird, Armagh

Caifé Bake My Day,

Armagh City Shopping Centre

Monday - 19:00-20:30

sean@cairdeteo.com

Dublin

Is Leor Beirt - Shankhill

Shankhill Community Playschool, Shankhill, BÁC 18 – location changes, contact for details

Dé Máirt - 20:00

Ellen Hegarty ellenhegarty@hotmail.com

 

Maidin Chaife

Santry Community Resource Centre, Domville Court, Airport Rd Santry

Monday - 11:00

Caroline 01 8422319

 

Maidin Chaife

Tillies Caifé, San Gabriel, Cluain Tarbh

Dé Domhnaigh - 11:15

diarmuid.osuilleabhain@gmail.com

Cavan

Is Leor Beirt

Patricias Pub, Kilnaleck, Co. Cavan

Friday - 20:00

Eugene Farrelly 049 4336763

 

Is Leor Beirt

Riverfront Hotel, Virginia

Wednesday - 11:00-12:00

billykearns@gmail.com

 

Is Leor Beirt

 

Is Leor Beirt – CLG Na Ceiltigh Cootehill

Cootehill Library

Every second Thursday of the month,

ficren@gmail.com

Carlow

Is Leor Beirt

Carlow Museum

Wednesday Mornings - 10:30-11:30

eolas@glorcheatharlach.ie

 

Gaeilge le Chéile

Reddy's, Tullow St.

First Thursday of the month - 21:00-22.:0

eolas@glorcheatharlach.ie

 

Ciorcal Gaeilge Iarscoile

Community Centre,

New Oak,

Tullow Street,

Ceatharlach

First Thursday of the month  - 16:30-17:30

eolas@glorcheatharlach.ie

 

Sult

Teach Bar, Tullow Street

Last Thursday of the month - 21:00-22:00

eolas@glorcheatharlach.ie

 

Comhrá le Comharsana

2 Schoolhouse Gate, Baillinkillen, Bagenalstown Carlow

or

O Sheas pub in Borris, Co. Carlow

Monday - 20:00

cookiedoughi@yahoo.com

Kerry

Is Leor Beirt - Castleisland

The Kingdom Sports Centre, Castleisland

Tuesday - 19:30-21:00

Éamon Ó Braoin, eamonnobraoin@hotmail.com

Kilkenny

 

Is Leor Beirt

 

Loughboy Library, Loughboy, Co. Kilkenny

Every Wednesday - 11:00

 

 

Kildare

 

 

Is Leor Beirt

 

Bialann Alice,

Naas

Every Saturday - 11:00-12:00

 

 

Is Leor Beirt

 

McAuley Place,

Sallins Road,

Nass,

Co. Kildare

Thursday - 20:00-21:00

 

 

Is Leor Beirt

 

Celbridge Community Library,

St Patrick's Park,

Celbridge,

Co. Kildare

Every Saturday - 18:45-19:45

 

 

Wicklow

 

Coircle Comhra Clocha Liatha, Co. Chill Mhantain Gach Luain 20.00-21.00 Burnaby Pub, Church Road email janetpredmond@gmail.com

 

Is Leor Beirt

 

O'Briens Irish Sandwich Bar,

94 Main Street,

Bray

Sunday - 10:30

 

 

Cork

 

 

Is Leor Beirt

 

Gael-Taca,

22 O'Sullivan's Quay,

Cork

Every Day - 09:00-17:30

 

 

Clare

 

 

Is Leor Beirt

 

Different locations

Last Tuesday of the month - 11:00-12:30

 

 

 

Is Leor Beirt

 

Potter's Hand Café,

Kilrush,

Co. Clare

Every Wednesday - 20:00-21:00

 

 

Is Leor Beirt

 

The Old Bar,

Wolfe Tones na Sionna,

Shannon

Co. Claire

Every Wednesday - 20:15-21:15

 

 

Caint agus Comhrá

 

Suas Coffee House,

Second Floor,

Carraig Donn,

Ennis,

Co. Clare

Every Saturday - 11:00-12:00

 

 

Caint agus Comhrá

 

Bia agus Caife,

St. Francis Street Carpark,

Ennis

Every Wednesday - 11:00-12:00

Every Saturday - 15:00-16:00

 

 

Caint agus Comhrá

 

Temple Gate Hotel,

Ennis,

Co. Clare

Thursday - 20:00-21:00

 

 

 

Down

 

 

Is Leor Beirt

 

Upstairs in Cumann Naomh Peadar's Club,

Warrenpoint,

Co. Down

Every second Thursday - 20:30-21:30

 

 

Is Leor Beirt

 

Conradh na Gaeilge - Annalong

Every Wednesday - 19:00-20:00

 

 

Is Leor Beirt

 

99 Sr na nGael, Downpatrick

BT30 6BS

Every Thursday - 20:00

 

 

Is Leor Beirt

 

Café Cure Bangor Museum Castle Park

Every second Thursday - 10:30-11:15

 

 

Donegal

 

 

Dicey's Caint

 

Dicey's,

Market Street,

Ballyshannon

Thursday - 20:00-22:00

 

 

 

Is Leor Beirt

 

Craobh Ballybofey/Stranorlar,

Co. Donegal

Every Wednesday - 20:00

 

 

Ciorcal Comhrá Letterkenny

 

Café Nation,

Príomhshráid Íoctar (Lower Main Street),

Letterkenny

 

 

 

Fermanagh

 

 

Is Leor Beirt

 

Blakes of the Hollow,

Enniskillen,

Co. Fermanagh

Every Wednesday - 21:00-22:00

 

 

Is Leor Beirt

 

Craobh Tús Nua,

Donagh,

Co. Fermanagh

Every Thursday

 

 

 

Galway

 

 

Learners' Night

 

Áras na nGael,

45 Dominick St,

Galway

Every Monday - 19:30

 

 

 

Is Leor Beirt

 

Lohans Restaurant

Every second Monday of the month - 20:00-21:00

 

 

Is Leor Beirt

 

Tigh Regan's,

Corrandulla,

Co. Galway

First Monday of the month - 20:00-22:00

 

 

Is Leor Beirt

 

McCambridges Restaurant

Every Tuesday - 10:30-11:00

 

 

Is Leor Beirt

 

Cúl an Tí

Every Wednesday - 11:00-12:00

 

 

Is Leor Beirt

 

An Crann Taca, Community Family Support Centre, An Cnoc, Inverin, Co. Galway

Every Thursday - 09:30-10:30

 

 

Is Leor Beirt

 

St. Enda's ,

Threadneedle Road,

Salthill Road

 

 

Is Leor Beirt

 

Age Action West Office, Small Crane, Galway

Last Friday of the month

 

 

Is Leor Beirt

 

Caife Áras Éanna, Inis Oírr, Na hOileáin Árann, Co. na Gaillimhe

Every Sunday - 14:00-16:00

 

 

Athenry Conversation Group

 

3 Old Church Street,

Athenry

Every Friday - 11:00

 

 

Seisiún Cainte

 

Gullane's Hotel,

Ballinasloe 

Monday 19:00

Thursday 11:00 and 14:00-16:00

 

 

Westmeath

 

 

Is Leor Beirt

 

Mullingar House

Every Wednesday - 11:00-12:30

 

 

Is Leor Beirt

 

The Olive Bar

Every Wednesday - 20:00-22:30

 

 

Leitrim

  

Ciorcal Comhrá

 

Heraghty's, Main Street, Manorhamilton

Every Saturday - 11:00-12:00

 

 

Standfords

 

Stanfords,

Dromahair,

Main Street

Saturday - 12:00-13:00

 

 

Ciorcal Comhrá Killtyclogher

 

Heritage Centre,

Killtyclogher,

Co. Leitrim

Every Monday - 20:00

Seán Mac Giolla Riabhaigh

  

 

Is Leor Beirt

 

Aonach an Aoine, Ionad Pobail na mBeach

Dé hAoine - 10:00-12:00

 

 

 

Wexford

 

 

Ciorcal Comhrá

 

Whitford Hotel,

Wexford Town

Monday - 20:00-21:00

 

 

Is Leor Beirt

 

Small Changes Café

 

Saturday - 11:00-13:00

 

 

 

Is Leor Beirt

 

Enniscorthy Castle

September onwards

 

 

Is Leor Beirt

 

Neville's Old Bar,

Main Street Fethard,

Fethard,

Co. Wexford

Every Thursday - 19:15-20:15

 

 

Is Leor Beirt

 

Café Purple Sage,

71 Main Street,

Guaire,

Co. Wexford

 

Every Saturday - 11:00-12:00

 

 

Limerick

 

 

Is Leor Beirt 

 

Nat's Bistro, 

Kilmakillogue

Monday - 20:00-21:00

 

 

Is Leor Beirt 

 

Small Changes Café

Tuesday - 11:00-13:00

 

 

Is Leor Beirt

 

Newcastle West

 

 

Is Leor Beirt 

 

Various locations, Limerick

Every second Thursday - 20:00-21:30

 

 

Louth

 

 

Is Leor Beirt

 

Acqua Café,

Blackrock

Monday 10:00-11:00

 

 

Is Leor Beirt

Teach Corr na Mucklagh,

Ómeith.

Every Wednesday - 21:00

 

 

Is Leor Beirt

Full of Beans Café,

Ash Walk,

Ardee

Thursday - 10:45-11:45

 

 

Is Leor Beirt

The Bar Tender,

Park Street,

Dundalk,

Co. Louth

Wednesday - 20:00-22:00

 

 

Mayo

Is Leor Beirt

 

Tacú FRC,

The Family Resource Centre,

Main Street,

Ballinrobe,

Co. Mayo

Every Monday - 21:00-22:00

eolas@conradhmhaigheo.ie

 

 

Is Leor Beirt

 

Tigh Matt Molloy,

Bridge Street,

Westport,

Co. Mayo

Every Tuesday - 21:00-22:00

 

eolas@conradhmhaigheo.ie 

 

Is Leor Beirt

 Linenhall Café,

Castlebar,

Co. Mayo

Wednesday - 11:00-12:00

eolas@conradhmhaigheo.ie

 

Is Leor Beirt

Mc Carthy's Pub,

Castlebar,

Co. Mayo

Wednesday - 09:00-10:00

 

Is Leor Beirt

Caife Tara,

Castlebar Shopping Centre,

Castlebar,

Co. Mayo

Thursday - 11:00-12:00

 

Meath

 

Is Leor Beirt

Siopa agus Caife Rathchairn

Wednesday Morning - 09:30-11:00

 

Is Leor Beirt

St Patrick's Hall,

Ucht-Uí-Néill,

Moynalty,

Co. Meath

Every Monday from September onwards - 20:00-21:00

 

Monaghan

 

Is Leor Beirt

CLG na Boithe

September onwards

 

Waterford

 

Is Leor Beirt

Tramore Library

Thursday - 19:00-20:00

tramorelibrary@waterfordcoco.ie

 

Gaeilge Anseo

Park Hotel,

Dungarvan,

Co. Waterford

Gach Tuesday - 19:00-20:30

 

Ciorcal Comhrá Dungarvin

Dungarvan Library,

Co. Waterford

Every Thursday - 18:30-19:30

 

Is Leor Beirt

The Cove Bar,

Ard Caoin,

Dunmore Rd,

Waterford

Wednesday - 11:00-12:00

 

Is Leor Beirt

Gingerman Bar,

Arundel Lane,

Waterford

Every Thursday - 21:30-23:00

 

Roscommon

 

Is Leor Beirt Chnoc an Bhiocáire

The Moorings Pub,

Knockvicar,

Co. Roscommon

Every Thursday - 14:00

Tadhg Ó Duignáin 086 3517878

 

Sligo

 

Is Leor Beirt – ITS

The Hub, IT Sligo

Every Wednesday of the academic year 10:30-11:30

 

Is Leor Beirt

Caifé Costa,

Upstairs, Johnson Court, O'Connell St.

Every Wednesday - 11:00-13:00

 

Is Leor Beirt

Caifé Ósta, on the banks of the river close to Hyde bridge

Every Friday - 17:00-19:00

 

Comhrá Shligigh

Private Houses

Every Tuesday - 20:30

 

Tipperary

 

Is Leor Beirt

Ryan's Hotel, Cashel

Every Monday - 20:00-21:30

 

Is Leor Beirt

Old Mill, New St., Carrick on Suir

Every Wednesday - 21:00-22:00

 

Is Leor Beirt

Bookworm, Durlas

Every Tuesday

11:00-12:00

 

Comhrá

Scoil Ailbhe, Durlas

Every Wednesday - 20:30-22:00

 

 

 

 

Is Leor Beirt

43 Glenside, Mullaghmore, Omagh

 

Tyrone

 

Is Leor Beirt, Dún Geanainn

Dungannon Library (first floor),

36 Market Square, Dungannon, Co. Tyrone BT70 1JB

The first Saturday of the month - 11:00

 

 

Gaeltacht Thír Eoghain

20 The Diamond, The Pomeroy, Co. Tyrone BT70 2QX

kathleenburnsiil@googlemail.com

 

 

Gaeilgóirí Ghleann Coille

Begins September

 

 

Ciorcal Comhrá Gaeilge

Dún Uladh Cultural Heritage Centre, Drumnakilly Road, Omagh

Wednesday - 13:30-14:30

 

 

Is Leor Beirt

An Caisleán Glas CLG, 43 Glenside, Mullach Mór, Omagh

 

Offaly

Is Leor Beirt

Quigley's, Patrick's Street, tullamore, Co. Offally

Every Wednesday - 12:30-13:30